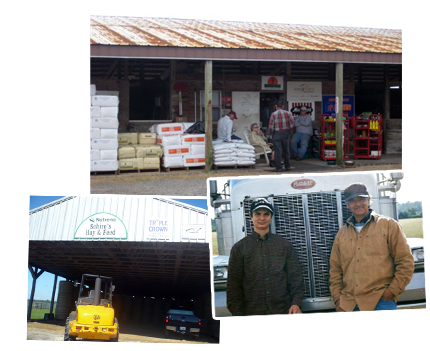 Two Convenient Locations
For many years the original Schiro's Hay and Feed store was situated on Balm Riverview Road in Riverview, Florida, but is now conveniently located at 16529 CR 672 in Lithia, Florida. Come see us there or at our other retail store.
In 2011, another retail outlet was added to the family venture, with a convenient location - Schiro's Feed at Fishhawk, located at 7015 Lithia-Pinecrest Road, in Lithia, Florida.
Two convenient locations, top quality extensive product lines, and knowledgeable, friendly customer service staff - Schiro's is the answer for your every hay and feed need!
Schiro's Hay and Feed


16529 CR 672
Lithia, FL 33547
Tel: 813-633-1522



Opening Hours


Mon-Thurs: 7am - 2pm Tues: 7am - 5pm Fri-Sat: 7am - 2pm Sun: 9am - 1pm

Schiro's Feed at Fishhawk


7015 Lithia-Pinecrest Road
Lithia, FL 33547
Tel: 813-684-0832



Opening Hours


Mon: 9am - 6pm Tues: 9am - 6pm
Weds-Friday: 9am - 6pm
Sat: 9am - 4pm Sunday: Noon - 4pm